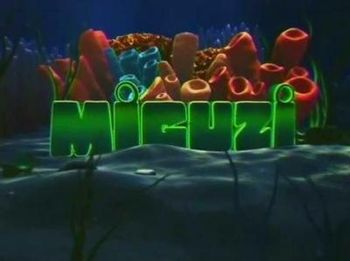 Miguzi was a programming block from Cartoon Network that ran during the weekday after-school slot from 2004 to 2007. Created by the network's Williams Street division, the folks that responsible for Toonami and [adult swim], it was created to be a lighter-toned successor to the former as Toonami itself was moved to Saturday nights.
Like Toonami, Miguzi had an animated hostess named Erin, a young girl with black hair and a yellow jumpsuit. At the start of the block, she was transported underwater and into a sunken alien spaceship by an enormous red fish. There, she chills out and watches the shows along with a group of mutant sea creatures and robots, none of whom speaks but all of whom have rudimentary personalities.
The block was initially seen as a Replacement Scrappy, having been brought in to appease younger viewers at the expense of Toonami's older audience. Miguzi grew on viewers soon enough, as its lineup not only included already popular shows (like Teen Titans and the Yu-Gi-Oh! franchise), but introduced new fan-favorites, such as Code Lyoko.
Despite the block's short lifespan, Erin was one of many cameos seen in the OK K.O.! Let's Be Heroes "Crossover Nexus" special.
---
Featured Shows
---
Tropes
---