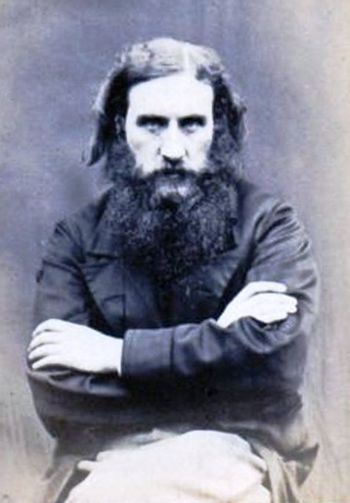 George MacDonald (10 December 1824 – 18 September 1905) was a Victorian Era Scottish writer who's chiefly known for his fantasy works, which were read by such authors as G. K. Chesterton, J. R. R. Tolkien, and C. S. Lewis. Beyond what we've listed below, he also wrote a fair number of non-fantasy works, primarily concerned with romance, suffering and adventure in the Highlands, which are generally passed over for some reason. MacDonald was also a Christian minister who wrote several books on theology and sermon collections.
Other writers who cited MacDonald as an influence include W. H. Auden, Roger Lancelyn Green, Madeleine L'Engle, E. Nesbit, and Elizabeth Yates. Essentially, he is the grandfather of nearly the entire modern genre of fantasy. Appropriately enough, he sported a pretty impressive Wizard Beard.
He is not George MacDonald Fraser.
Works by George MacDonald with their own trope pages include:
<!—index—>
<!—/index—>
Short stories by George MacDonald with their own trope pages include:
<!—index—>
---
His other works provide examples of:
---
George MacDonald in fiction:
---