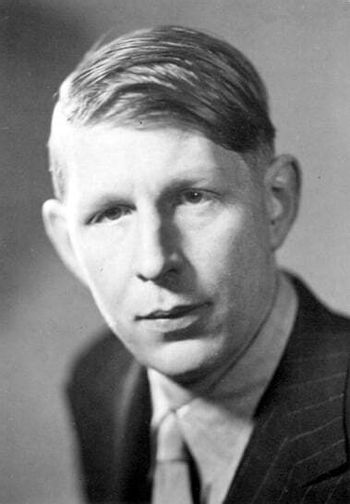 "A poet is, before anything else, a person who is passionately in love with language."
— W.H. Auden, from "Squares and Ooblongs"
Wystan Hugh Auden (21 February 1907 – 29 September 1973) was an Anglo-American poet and playwright, best known for love poems such as "Funeral Blues", socio-political poems like "September 1, 1939" and "The Shield of Achilles", cultural and psychological poems like The Age of Anxiety, and religious poems like "For the Time Being" and "Horae Canoicae". His poetry was influenced by T. S. Eliot, Marianne Moore, Dante, and W. B. Yeats.
Notable Works Include:
Poems (1930)
Look, Stranger! (U.S. title On This Island, 1936)
Another Time (1940)
The Sea and the Mirror (1943)
Nones (1952)
Homage to Clio (1960)
The Dyer's Hand and other essays (criticism, 1963)
About the House About the House (1965)
City Without Walls (1969)
Poems of his you might recognize:
"As I Walked Out One Evening"
"Musee des Beaux Arts"
"Funeral Blues"
"September 1, 1939"
"In Memory of W.B. Yeats"
---
Auden's poetry contains examples of:
Grief Song: "Funeral Blues" is a literal example, having been written as a cabaret song about one's dead lover. "In Memory of W.B. Yeats" is a non-sung version.
It's Not You, It's Me: A common trope in his early love poems.
Spy Fiction: Of the Stale Beer-flavoured version, especially in his early poetry, which is obsessed with plans and sabotage and betrayals.