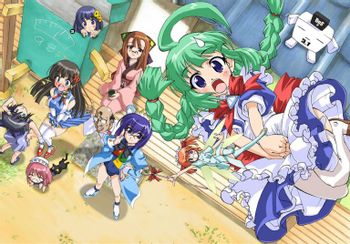 The OS-tan (short for Operating System-tan) is a Moe Anthropomorphism of various Windows operating systems (or at least that's how it started out), and is now a common feature on the Japanese Futaba Channel (where they originated). In fact, web browsers, antivirus programs, and other applications have gotten similiar treatment.
The -tan is a deliberate mistranslation of the -chan suffix, as it's supposed to sound like something said by a small child (hence evoking cuteness).
Originally, the first OS-Tan was Windows ME-tan, who was drawn as a cute Idiot Haired Cute Clumsy Girl to represent how the actual Windows ME was highly unstable. Afterwards, several more Windows OS-tans were made, and eventually the premise exploded to making moe versions of almost every OS or popular piece of hardware in existence. The cult popularity of the OS-tan characters led to Microsoft Japan creating Madobe Nanami, an official OS-tan, as a spokesperson for Windows 7. Then there is Windows 10-tan with the name 'Touko Madobe", debuting around the release of the said operating system.
However, Windows 11 did not get its corresponding OS-tan mascot.
In fact, this little phenomenon even sparked a fake trailer for an anime series called Trouble Windows, which has also been licensed as a name for artbooks depicting the OS-tans.
A video of the Trouble Windows
trailer exists on YouTube. You can find an HD version here
.
---
Tropes:
---