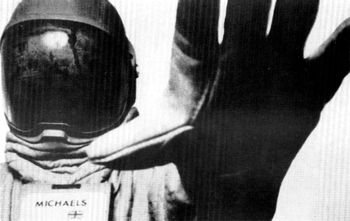 I don't know what came down in Recovery 7, but it certainly wasn't human!
— The Doctor
The one that got a trailer.
The Ambassadors— EEEEEERRRRRRRRWWWW TWAAAANNNG!
— of Death!
Written by David Whitaker (with uncredited rewrites by Trevor Ray, Terrance Dicks, and Malcolm Hulke). This seven-episode serial first aired from March 21 to May 2, 1970.
---
Mars Probe 7 disappeared with three astronauts on board several months ago, and now the British Space Agency's "Recovery 7" mission is in trouble. UNIT is investigating, and the Doctor (still miffed with the Brig over the Silurian incident) and Liz sort of drop in.
Recovery 7 returns to earth, but the astronauts are kidnapped as soon as they land, and Liz notices that the capsule registers off the scale on her Geiger counter. The "astronauts" are in fact aliens, dependent on radiation, who have swapped places with the humans.
The Doctor takes a solo flight in Recovery 7 and finds Mars Probe 7, still orbiting the red planet. A huge alien spaceship appears and the Doctor is taken on board. He finds the real astronauts, unharmed but brainwashed, and a very cross alien captain who threatens to destroy the Earth unless his ambassadors are released.
It turns out that General Carrington, in charge of the Space Agency, has kidnapped the ambassadors to provoke the aliens into attacking Earth, whereupon humanity will have to defend itself and destroy the aliens. Carrington had been on Mars Probe 6 which had encountered the aliens on Mars, where they accidentally killed his comrade by touching him. The Doctor and UNIT stop him and arrange for a return of the ambassadors, after which the Doctor promptly swans off back to UNIT base, satisfied to leave the paperwork to other people.
---
As you might've guessed, this was where that electronic scream-like sound you hear at the cliffhanger or close of most Doctor Who episodes debuted.
This story was recorded in colour, but the only surviving colour copies of Episodes 2-7 are very poor quality ones recorded from broadcast by a US fan using early home video technology, from a Canadian station at the very edge of its transmitter area. In 2012, the story was released on DVD, restored to full colour by combining the video recordings with the chroma dot automated colour recovery process.
The story also marks the return of companion Corporal John Benton (now a Sergeant), last seen in "The Invasion".
Tropes
---