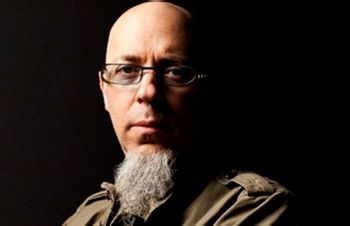 And I'll see you on the road.
Influenced by:
Jordan Charles Rudess (born Jordan Charles Rudes, November 4, 1956) is an American virtuoso keyboardist, music technology developer, and composer. He is considered one of THE greatest keyboardists of all time and frequently tops any online poll on the subject. He is most prominently known as the keyboardist for Dream Theater and Liquid Tension Experiment and as the owner of the iOS based music technology company, Wizdom Music. He's also been a guest keyboardist on a large number of side projects, from Ayreon to Neal Morse.
Jordan Rudess began playing piano in the second grade and picked it up very quickly, getting enrolled in the prestigious Juilliard at the age of nine to be trained as a classical pianist. As a teen, he discovered Progressive Rock and the Moog synthesizer, and stopped his training as a classical musician to pursue a career as a solo Progressive Rock artist. He played in several projects in the 80s and gained notoriety after he won a reader poll in Keyboard Magazine for best new talent. He would then join The Dixie Dregs as a part-time keyboardist, and form a sort of power-duo with Rod Morgenstein.
In 1997, Mike Portnoy invited him to play as the keyboardist in a Progressive Rock supergroup called Liquid Tension Experiment. After two albums there, they asked him to join Dream Theater. He agreed, replacing Derek Sherinian, and helping them release their magnum opus, Metropolis Pt. 2: Scenes from a Memory. He became the permanent keyboardist of the band, and to date has been all of their releases since he joined. He's enjoyed an extensive solo career on the side of that, exploring every genre from electronic music to Progressive Rock to Classical to Solo Piano.
In 2010, he started the company Wizdom Music to create new music software and new ways to use smartphones and tablets as music instruments. Wizdom Music has also developed apps in everything from music education to camera apps. Outside of his music apps, he has also helped promote and launch several keyboard technologies, including the Roli Seaboard, harpejji, haken continuum, and the XKey Air Bluetooth Controller. He also has an online music education website, called the Jordan Rudess Online Conservatory.
---
Discography:
open/close all folders
Solo Albums and Projects
Arrival (1988)
Listen (1993)
Secrets of the Muse (1997)
Rudess/Morgenstein Project (1997)
Resonance (1999)
An Evening with John Petrucci and Jordan Rudess (2000)
Feeding the Wheel (2001)
4NYC (2002)
Christmas Sky (2002)
Rhythm of Time (2004)
Prime Cuts (2006)
The Road Home (2007)
Notes on a Dream (2009)
All That Is Now (2013)
Levin Minnemann Rudess (2013)
Explorations (2014)
The Unforgotten Path (2015)
Dream Theater
Studio Albums:
Six Degrees of Inner Turbulence (2002)
Train of Thought (2003)
Octavarium (2005)
Systematic Chaos (2007)
Black Clouds & Silver Linings (2009)
A Dramatic Turn Of Events (2011)
Dream Theater (2013)
The Astonishing (2016)
Live Albums:
Live Scenes from New York (2000)
Live at Budokan (2003)
Score (2006)
Chaos in Motion 2007–2008 (2008)
Live at Luna Park (2013)
Breaking the Fourth Wall (2014)
Other Albums:
Greatest Hit (...And 21 Other Pretty Cool Songs) (2008)
Liquid Tension Experiment and Liquid Trio Experiment
Liquid Tension Experiment (1998)
Liquid Tension Experiment 2 (1999)
Spontaneous Combustion (2007)
---
Music Apps and Technology:
SampleWiz - a touch-screen based sampler.
MorphWiz - a touch-screen based synthesizer that plays like a haken continuum.
Geo Synthesizer - a musical instrument and MIDI controller
Tachyon - a touch-screen based synthesizer with a number of set instruments that can be morphed and mixed together by moving your finger up and down the screen.
HarmonyWiz - an advanced harmonic generator which can create multi-part harmonies from a single melodic line.
Jordantron - a collection of samples of the sounds and patches used in his live shows with a playing interface.
SpaceWiz - a music generator and visual app that lets you play a variety of synthesizers by flinging particles at planets.
SketchWiz - a camera app that allows you to transform whatever it captures into a pen, pencil, chalk, or charcoal sketch.
EarWizard - a music education app that teaches ear training through a Simon Says-like game.
Explores - an app that allows you to explore the music of his solo piano album, All That Is Now, adding in various effects and background pads.
---
Jordan Rudess and his works provide examples of the following tropes: