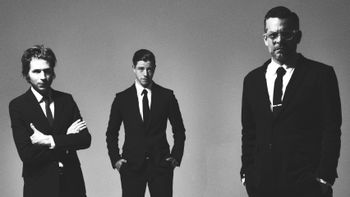 "Rosemary
Heaven restores you in life
You're coming with me
Through the aging, the fearing, the strife"
—Evil
Interpol is an American indie rock band formed in 1997. Considered the Trope Codifier of the Post-Punk revival, they came to prominence in 2002 with their debut album Turn on the Bright Lights, and have released five more albums since then, each to varying degrees of critical acclaim. The band consists of Paul Banks on vocals and guitar, Daniel Kessler on guitar and back up vocals, and Sam Fogarino on drums. Bassist Carlos Dengler left the band in 2010 to pursue personal projects, and has not yet been officially replaced. For the duration of their 2010 tour to support their fourth album (self-titled Interpol), the remaining trio have been joined by Dave Pajo on bass and Brandon Curtis as keyboardist and back-up vocalist.
The band was named not after the international police, but after Paul Banks' nickname when he went to school in Spain. His friends would refer to him as "Pol, Pol, Interpol" ("Pol" being the closest pronunciation for "Paul" for a Spanish speaker, given that Spanish doesn't really use the au vowel clusternote This incidentally raises the question of why Paul didn't Hispanicize his name to Pablo). Of course, while "Interpol" does seem like a decent band name, it didn't make searching for them online very easy during their early years.
Each member of the band is noted for a particular trait: Banks for his nasal baritone, Kessler for his guitar flourishes and inability to remain still while playing, Dengler for his fashion choices and habit of wearing his bass guitar very low, and Fogarino for his energetic drumming style. Early on, their sound was frequently likened to Joy Division, a comparison the band is less than enthusiastic about. Nowadays they're better described as a gothic R.E.M.
---
Studio albums:
Turn On The Bright Lights (2002)
Antics (2004)
Our Love to Admire (2007)
Interpol (2010)
El Pintor (2014)
Marauder (2018)
The Other Side of Make-Believe (2022)
In 2009 lead singer Banks released a solo album under the pseudonym Julian Plenti.
Not to be confused with Interpol Special Agent.
---
Tropes:
Album Title Drop: "It's up to me now, turn on the bright lights". in "NYC".
All Love Is Unrequited: A frequent theme in their songs, but especially obvious in "C'Mere".
Animated Music Video: "PDA" to an extent.
A Wild Rapper Appears!:

The original demo of "Song Seven" features a rap verse preformed by an unknown rapper. The voice definitely does not belong to Paul Banks, and the final recording from the bonus track version of Antics removes the verse completely, so who the performer is remains a mystery as of yet.
The rapper is actually Daniel Kessler, as proven by live performances of the song.

Buffy Speak: Paul Banks is known for what Pitchfork once described as "endearing" "middle-school—poetry", so this trope abounds:

Similes include comparing the subway to a porno ("NYC"), love to a pony ("Leif Erikson") or a laboratory ("Specialist").
"It's in the things that she puts in my hair, her stories are boring and stuff", from "Obstacle 1".
"If it's still pretty, what with all these leaves", from "Pioneer to the Falls".

Celebrity Song: "Leif Erikson", which doesn't actually have anything to do with the Norse explorer.
Deliberately Monochrome: The album art for Interpol.
Does This Remind You of Anything?: "Stella Was a Diver And She Was Always Down". The song's subtle references to oral sex become much, much less subtle once Banks starts singing "Oh yeah.... so good.... right on" for a whole minute.
Epic Rocking: "Galivan", a bonus track from their self-titled effort, is their longest ever studio recording at six minutes and forty-nine seconds. Other songs that exceed six minutes include "Stella Was a Diver & She Was Always Down", "The New" and "Specialist". To a lesser extent, there's "Precipitate", "Not Even Jail", "Take You On a Cruise", "Pioneer to the Falls", "The Lighthouse" and "Lights".
Even the Guys Want Him: Pretty much everything about Carlos Dengler inspires this.
Fading into the Next Song:

Happens for the first time towards the end of their fourth album, with "All Of The Ways" and "The Undoing".
An unusual variant in Our Love to Admire. "The Heinrich Maneuver" makes use of Stop and Go, so when it abruptly ends and "Mammoth" begins at the same tempo, it's not immediately obvious that the former song has ended.

Fake-Out Fade-Out: In the middle of "The Heinrich Maneuver".
Gratuitous Spanish:

In "The Undoing". Partially justified by Banks' fluency in the language as a result of living in Spain while growing up.
El Pintor is Spanish for "the painter", as well as being an anagram of the band's name.

Indecipherable Lyrics: So very much. This isn't helped by the complete lack of official lyrics on either the band's website or in the album sleeves.
Intercourse with You: "Stella Was a Diver And She Was Always Down" is about oral sex.
The Invisible Band: "Evil" features a creepy puppet singing in Banks' voice and the video for "The Heinrich Maneuver" features random characters acting out a scene.
Large Ham: Vocalist Paul Banks can get pretty dramatic in his delivery and likes to combine this with a Perishing Alt-Rock Voice.
Long-Runner Line-up: The band had a different drummer in its early years, but from 2000 to 2010 the band was Banks, Dengler, Kessler and Fogarino, making them a Type 2. Post Carlos D's departure, the band has been working as a trio for 9 years, which will soon make them eligible to become a different Type 2.
Looped Lyrics: "Untitled"'s lyrics consist of "Surprise, sometimes, I'll come around, when you're down" repeated several times.
Minimalistic Cover Art: The band are quite fond of this. Behold◊, the cover of Antics, which probably takes the cake.
Music Video Overshadowing: "Evil": A song about a man tempting a woman to commit adultery with him (either that or a character study of serial killer couple Fred and Rosemary West). The video is about a puppet who is rushed to surgery after being involved in a car accident.
Nipple and Dimed: Whether deliberate or not, women who feature in the band's videos are generally wearing something light or transparent enough for this trope to take effect. See the videos for "PDA" and "The Heinrich Maneuver" for example.
Non-Appearing Title: It's easier to list the songs in which this isn't the case:

Every song on Turn on the Bright Lights is this sans "Say Hello to the Angels" (and "Stella Was a Diver and She Was Always Down", though that one is debatable note and the bonus track "Specialist").
In Antics, every song aside from "Slow Hands", "Not Even Jail" and "Length of Love"note .
Much less frequently in Our Love to Admire, with only "Pioneer to the Falls", "The Scale", "The Heinrich Maneuver", and "Mammoth" having non-appearing titles.

One-Man Song: "Leif Erikson", overlapping with Celebrity Song.
The One That Got Away: Both "C'mere" and "The Heinrich Maneuver" touch on this.
The Oner: The video for "The Heinrich Maneuver" is an odd example of this.
One-Woman Song: "Stella Was a Diver And She Was Always Down".
One-Word Title: About half of their songs are this, from "Specialist" and "PDA" off their debut to "Surveillance" and "NYSMAW" off their latest.
Outlaw Couple: One interpretation of "Evil" posits that the song's about Fred & Rosemary West, a married couple who raped and murdered at least 12 different people (including their own daughter) between 1967 and 1987.
Performance Video: "Mammoth"
Post-Punk: Their main style. Trope Codifier for the Post-Punk revival movement.
Putting on the Reich: Carlos' fashion style pre-Our Love to Admire is commonly referred to as "Nazi chic". Particularly evident in this video.
Precision F-Strike:

"No way, no fucking way" in the otherwise calm "Try It On".
"It's that time, fuck the surface to meet your specialist."
"Mammoth" contains two, one in each verse.
A Precision F Strike is usually added to "Leif Erikson" during live performances: "But if your life is such a big fucking joke, why should I care?"
"Toni" has "The aim now is fuckin' leave it behind, yes."

Rock Trio: The band became this after the departure of Carlos D, with them choosing not to recruit a new bassist and Banks taking over bass duties instead.
Self-Backing Vocalist: Banks does this a lot on the album tracks, with the exception of a few songs on which Kessler's vocals feature.
Self-Titled Album: Their fourth, and the last album to feature all four of them together.
Single Stanza Song: "Untitled".
Stop and Go: "PDA", "Evil", "The Heinrich Maneuver".
Studio Chatter: "This one's called Stella Was a Diver & She Was Always Down."
The Stoic: From a review of their latest tour: "The NYC post-punkers are so stoic, when frontman Paul Banks clears his throat between songs, it could be considered stage banter".
Three-Way Sex: The song "No I in Threesome" is about a couple considering this.
Word Salad Lyrics: The band own this trope. "Obstacle 1" is probably the best example. Others:

My love's a laboratory

I set all my pets free

So baby you should sleep with me

I make trips to the bathroom

Yeah my friends all have true grit

I am speckled like a leopard

We spies, intimate slow hands

Killer for hire, you know not yourself

We spies, intimate slow hands

You let the face slap around yourself

Touch your thighs, I'm the lonely one

Remember that last sweat 'cause that was the right one

How are things on the West Coast?

I hear you're moving real fine

You wear those shoes like a dove

Now strut those shoes, we'll go roaming in the night

Yours is the only version of my desertion that I could ever subscribe to

That is all that I can do

You are a past winner, the last dinner,

I'm raking all around me, until the last drop is behind you [...]

Sleep tight, grim rite, we have two hundred couches...

Yarling: Banks's delivery is decidedly nasally and monotone, not helping with those Joy Division comparisons.
---