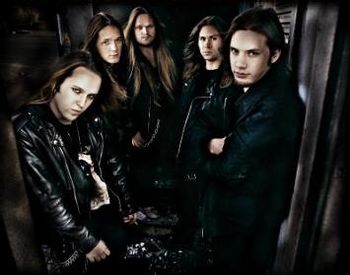 Children of Bodom was a Finnish metal band from Espoo, formed in 1993 under the name of IneartheD. Their name was inspired by the Lake Bodom murders
.
Their breakthrough was the album Follow the Reaper, which was the band's first album to receive a Gold certification in Finland. Since then, all six of the band's studio albums have reached the same status. In Finland, Children of Bodom has released three consecutive albums that debuted at number one on Finnish album charts, and has also seen chart positions on the United States Billboard 200.
The band is also known for its rather vague genre, which has caused much heated debate, but could best be described as a mix of death metal, elements of black metal in their early/later work, some groove metal elements, thrash metal in later works and (even though many will deny it) a bit of power metal.
As of late 2019, Janne Wirman, Henri Seppala, and Jaska Raatikainen have all announced their departure after 25 years of uninterrupted membership. Their final show with the band will take place on December 15, 2019. However, because Raatikainen, Seppälä and Wirman have filled an application with the National Board of Patents and Registration of Finland in June 2019, frontman Alexi Laiho is not legally allowed to perform under the Children of Bodom name without them. In 2020, he and Daniel Freyberg formed a new band called Bodom After Midnight along with Waltteri Väyrynen (drums, also in Paradise Lost) and Mitja Toivonen (bass, ex-Santa Cruz). Unfortunately the new band ended up recording only three songs before Laiho's untimely death due to health-complications caused by his alcoholism in late 2020.
---
Members (final line-up in bold):
Alexi Laiho - lead guitar, lead vocals (1993-2019)
Alexander Kuoppala - rhythm guitar, backing vocals (1993-2003)
Samuli Miettinen - bass, backing vocals (1993-1995)
Jaska Raatikainen – drums (1993-2019)
Henri "Henkka T. Blacksmith" Seppälä – bass, backing vocals (1995-2019)
Jani Pirisjoki - keyboards, backing vocals (1995-1997)
Janne Wirman – keyboards, backing vocals (1997-2019)
Roope Latvala - rhythm guitar, backing vocals (2003-2015)
Daniel Freyberg - rhythm guitar, backing vocals (2015-2019)
Discography:
Something Wild, 1997
Hatebreeder, 1999
Follow the Reaper, 2000
Hate Crew Deathroll, 2003
Are You Dead Yet?, 2005
Blooddrunk, 2008
Skeletons in the Closet, 2009, a cover album
Relentless Reckless Forever, 2011
Halo Of Blood, 2013
I Worship Chaos, 2015
Hexed, 2019
---
Examples of tropes:
---