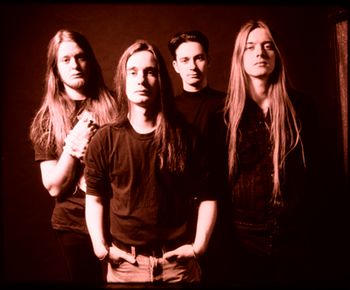 Carcass is a highly influential metal band from England, formed in 1985 and disbanded in 1995. Originally formed by guitarist Bill Steer together with drummer Ken Owen in 1985 as a D-beat
band under the name Disattack; after releasing their demo A Bomb Drops... in 1986, Paul (bassist) and Andrew Pek (vocalist) left the band and were replaced by vocalist Sanjiv and bassist Jeff Walker, formerly guitarist and vocalist of the Electro Hippies. About that same time Bill Steer joined Napalm Death (replacing Justin Broadrick) and recorded the second side of what became ND's first album, Scum (1987), which Walker designed the cover art of. Eventually, Disattack changed its name to Carcass.
Carcass began as a Grindcore band, they moved onto more Death Metal-influenced grind (known as "deathgrind") on Symphonies of Sickness before moving onto straight-up death metal on Necroticism - Descanting the Insalubrious and Melodic Death Metal on Heartwork and Swansong. They are considered one of the most influential extreme metal bands of all time, being a strong influence on grindcore and death metal bands and possibly even creating melodeath altogether. In 2007, they reunited and eventually released a new album in 2013.
Current lineup:
Bill Steer - guitars, backing vocals (1985–1995; 2007–present)
Jeff Walker - lead vocals, bass (1987–1995; 2007–present)
Dan Wilding - drums (2012–present)
Former members:
Michael Amott - guitars (1990–1993; 2007–2012)
Daniel Erlandsson - drums (2007–2012)
Ken Owen - drums, backing vocals (1985–1995)
Carlo Regadas - guitars (1995)
Sanjiv - vocals (1985–1987)
Ben Ash - guitars (2013–2018)
Tom Draper - guitars (2018–2021)
Studio albums:
Reek of Putrefaction (1988)
Symphonies of Sickness (1989)
Necroticism - Descanting the Insalubrious (1991)
Heartwork (1993)
Swansong (1996)
Surgical Steel (2013)
Torn Arteries (2021)
---
Tropes that apply to Carcass:
---