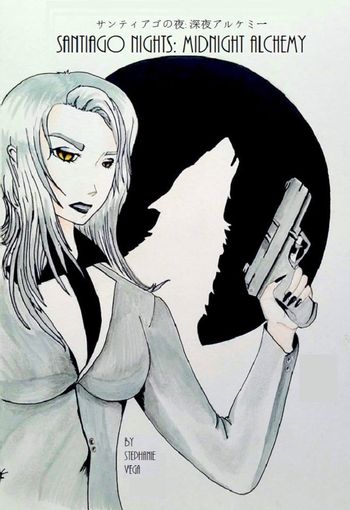 "Her name's Oda, Lily Oda, Gabbiani's top enforcer. She's a real pro, a psycho for hire if there ever was one. You are out of fucking luck, Ben, if it's Lily Oda on your tail."
An urban fantasy yuri novel by Stephanie Vega, Santiago Nights tells the story of Lily Oda, a young werewolf mob enforcer. Her pack mates, Sarita Montoya and Remington Rhodes, and her human mate, Chelsea Heartfield, round out the main cast. Together they navigate the criminal underworld of Santiago, California and attempt to survive until high school graduation. It is available on Amazon Kindle
.
Tropes
Academy of Adventure: St. Francesca Academy, the most exclusive private school in Santiago. Half the student body are mob children, the faculty includes a self proclaimed Angel and the School Idol has an after school job as a mob enforcer.
Action Girl: Lily and Sarita. Lily's a trigger happy mob hitwoman while Sarita refrains from violence unless pressed.
---