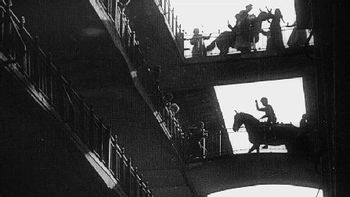 Strike is a 1925 film from the Soviet Union, directed by Sergei Eisenstein. This film is Exactly What It Says on the Tin, a dramatic story of a strike at a factory, set not long before the revolution of 1905.
The factory is tense, with workers seething with resentment, management spying on them, and Bolsheviks in the factory plotting a strike. Tensions boil over and the workers storm out after one worker, unjustly accused by management of stealing a micrometer, hangs himself in the middle of the factory rather than bear the shame of being called a thief. The workers present management with a fairly reasonable set of demands, such as an eight-hour day, but management is contemptuous of the workers, and plots a violent response to the strike.
Strike was the debut feature of Eisenstein, who would revolutionize film with his theories on montage and editing. It was planned as the first of a seven-film series about the Russian Revolution. No more films in the series were made but elements of Eisenstein's original concept were made into the films The Battleship Potemkin and October.
---
Tropes: