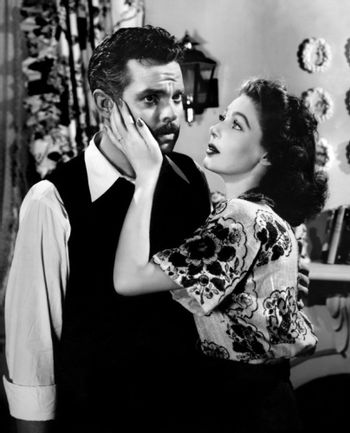 "The German sees himself as the innocent victim of world envy and hatred, conspired against, set upon by inferior peoples, inferior nations. He cannot admit to error, much less to wrongdoing, not the German. We chose to ignore Ethiopia and Spain, but we learned from our own casualty list the price of looking the other way. Men of truth everywhere have come to know for whom the bell tolled, but not the German. No! He still follows his warrior gods marching to Wagnerian strains, his eyes still fixed upon the fiery sword of Siegfried, and he knows subterranean meeting places that you don't believe in. The German's dream world comes alive when he takes his place in shining armor beneath the banners of the Teutonic knights. Mankind is waiting for the Messiah, but for the German, the Messiah is not the Prince of Peace. No, he's... another Barbarossa... another Hitler."
—Franz Kindler/Charles Rankin
The Stranger is a 1946 Film Noir directed by Orson Welles, starring Welles, Edward G. Robinson, and Loretta Young.
Mr. Wilson (Robinson) is a war crimes investigator who has followed a Nazi war criminal, Konrad Meinike, to Harper, Connecticut. Wilson is hoping to find Meinike's old commander, Franz Kindler, a notorious Nazi criminal and perpetrator of the Holocaust. Meinike escapes Wilson and meets Kindler (Welles), who has assumed the false identity of "Charles Rankin" and is teaching at a prep school in Harper. Kindler kills Meinike and thinks he is safe, but Wilson is still on the case and soon sniffs Kindler out. Mary (Young), who just got married to the charming "Charles Rankin", refuses to believe that her husband is an escaped Nazi, and tries to help him, until Kindler makes a serious mistake.
Welles, who had made something of a bad name for himself in Hollywood by this point, offered to direct The Stranger just to show he could produce a regular studio feature on time and under budget. While this film is not as well remembered as some of his other, more artistic efforts, at the time it was the highest-grossing film he ever made. It's also notable as the first Hollywood film to show actual documentary footage of a liberated Nazi death camp, including a brief shot of a massive pile of dead Holocaust victims.
No relation to the novel by Albert Camus.
The film is in the public domain, and can be viewed in multiple places online, as well as through many DVD and Blu-ray releases. MGM owns the elements though, and Olive Films worked with them to release an "official" DVD and Blu-ray.
---
This film exhibits the following tropes:
---