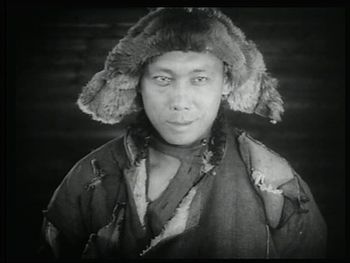 Storm Over Asia (original Russian title Потомок Чингисхана, Potomok Chingiskhana, "Heir to Genghis Khan") is a 1928 Soviet propaganda film, directed by Vsevolod Pudovkin and starring Valéry Inkijinoff.
Inkijinoff plays a Mongol herder, the Son (named Bair in the original Russian version) of an elderly herder who has acquired himself a fine fox pelt. The father sends his son to the nearest Russian trading post to sell the pelt, anticipating five hundred gold pieces, enough to buy food "for many months". It's 1918, and the local trading post has been taken over by the British army, which has invaded Russia in order to support the Whites and stamp out the Soviet Bolshevik revolution. The British trader tries to cheat the herder, offering him only a few coins for the pelt. The herder protests and a fight breaks out. One of the trapper's lackeys attacks the herder and gets cut in the hand; the herder has to flee to the forests to avoid arrest and execution.
Two years later, the herder is still living in the forest when he runs across a Soviet partisan unit that is fighting the British. The herder throws his lot in with them, and is still fighting with them when he is captured trying to save a herd of cattle from the British soldiers who've come to steal it. The British commander orders the herder to be shot, but afterwards discovers an amulet identifying the herder as a direct descendant of Genghis Khan. He hits on the idea of installing the herder as the new Great Khan and leader of a puppet government. The herder, wounded but still alive, is promptly made king, but is by no means willing to take orders from the British.
---
Tropes: