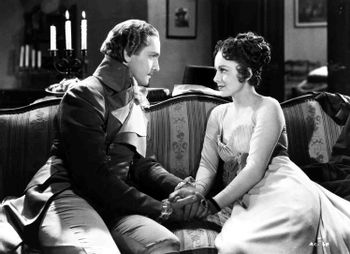 Anthony Adverse is a 1936 period drama film directed by Mervyn LeRoy, starring Fredric March, Olivia de Havilland, and Claude Rains. It is based on a Doorstopper novel by Hervey Allen, and is set in the late 18th and early 19th centuries, during the Napoleonic era in Europe.
Anthony Adverse is the product of an illicit affair between Maria Bonnyfeather, a young wife, and her lover Denis. Maria's arrogant husband, Spanish nobleman Don Luis (Rains), kills Denis in a duel, and Maria dies in childbirth. Don Luis dumps the baby off at a Catholic girl's school. Eventually, and by sheer coincidence, Anthony (played as an adult by March) is sent to be an apprentice at his own grandfather's mercantile business. Mr. Bonnyfeather realizes the truth of Anthony's parentage but doesn't tell him. His scheming housekeeper, Faith (Gale Sondergaard), who stands to inherit the Bonnyfeather estate if not for Anthony, encourages Bonnyfeather to keep the secret. Anthony becomes his grandfather's most trusted employee. He falls in love with Angela, a cook's daughter (de Havilland), but fate and tragedy conspire to separate them again and again.
Anthony Adverse was not a typical production for its studio, Warner Bros., which usually avoided stiff, dull costume dramas like this for gangster films and biopics. Despite being stiff and dull, it was nominated for seven Academy Awards and won four, including the first-ever Best Supporting Actress award (for Sondergaard). The score was written by one of the most famous film composers ever, Erich Wolfgang Korngold.
---
Tropes: