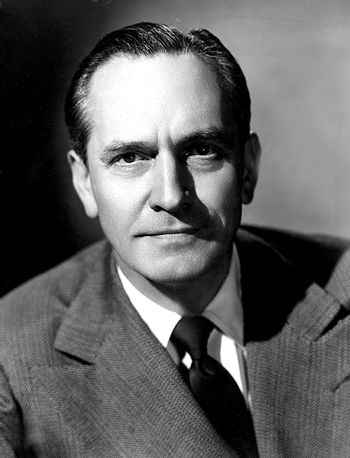 "An actor has no more right to be temperamental than a bank clerk."
Fredric March (August 31, 1897 – April 14, 1975) was an American actor, regarded as one of the most famous stars of The Golden Age of Hollywood. He was also an accomplished stage actor, and is the only actor to have won an Academy Award and a Tony Award for acting twice each. He was rarely seen in action movies or Westerns, instead working in period pieces, modern dramas, or literary adaptations, but he had a flair both for serious drama and Screwball Comedy.
March was born Ernest Frederick McIntyre Bickel in Racine, Wisconsin, the son of a schoolteacher and a hardware salesman. After serving in World War I and briefly working in banking he began a career as an actor, working on Broadway before getting parts in feature films by the end of the 1920s. One of his first starring roles, in 1930 film The Royal Family of Broadway, earned him his first Oscar nomination for Best Actor. The next year he won for Dr. Jekyll and Mr. Hyde, becoming a rare example of an actor or actress winning a Best Actor Oscar for a horror film as well as the only instance to date of a tie for Best Actor (Wallace Beery also won that year, for The Champ). March continued to star in popular and critically acclaimed films throughout the decade, appearing as Jean Valjean in a 1935 adaptation of Les Misérables and getting his third Oscar nomination for starring as Norman Maine in the original version of A Star Is Born.
In the 1940s he began to split his time between Hollywood and Broadway. In 1942 he won a Tony Award for starring in the original production of The Skin of Our Teeth. In 1946 he won his second Oscar, 15 years after his first, for his starring role in The Best Years of Our Lives; in 1951 he got his fifth and last Oscar nomination for the film version of Death of a Salesman. As he aged he continued to bounce back and forth between stage and screen, playing older authority figures like the President in Seven Days in May, whlle winning his second Tony for Long Day's Journey Into Night. March's last film role was in a four-hour adaptation of The Iceman Cometh that was released two years before his death from cancer.
---
Fredric March films on TV Tropes:
---