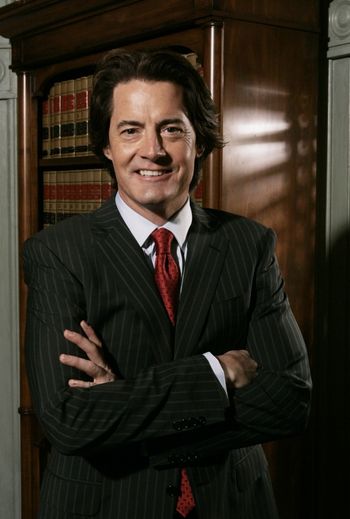 "When I started acting, my whole focus and intention was to work as a stage actor in a company where you're asked to different roles - do a comedy, do a tragedy, etc. I haven't had any reservations about jumping from one type of genre to another."
Kyle Merritt MacLachlan (/məˈɡlɑːklən/; born February 22, 1959 in Yakima, Washington) is an American actor.
A distinctive and charismatic character actor, he's skated the outskirts of stardom with critically acclaimed roles in cult films. He's a frequent collaborator with David Lynch, having starred in several works of the the weirdo visionary director including Dune, Blue Velvet and Twin Peaks. Less impressively, he was in Showgirls, a film that was disastrous for everyone involved and which became kind of an Old Shame for him.
He's become prominent on television since the Twin Peaks days. His roles there have varied from suburban husband with a Dark and Troubled Past Orson Hodge in Desperate Housewives to crazed superhuman Cal Zabo on Agents of S.H.I.E.L.D. and eccentric millionaire George "The Captain" Van Smoot on How I Met Your Mother.
---
Film Roles
Television Roles
---