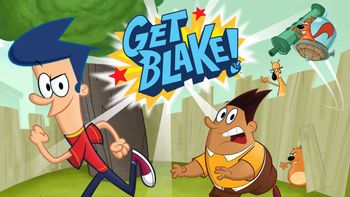 Get Blake! is a French-American cartoon series from Marathon, best known for Totally Spies! and Martin Mystery; it airs in a few international versions of the channel Nicktoons and finally aired on the main Nickelodeon channel in the US in April 20, 2016.
The shows premises is about Blake Meyers who in the future will become a space ranger destined to defeat the evil Squalliens. A trio of Squalliens have been sent into the past to capture Blake and stop him from becoming a space ranger in the future. Blake with his best friend Mitch have to use their wits and skills to get away from them or get caught.
The animation is done in Adobe Flash.
---
Get Tropes!:
---