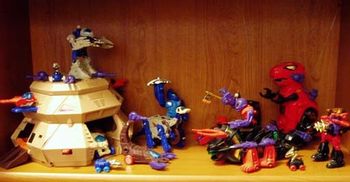 Starriors was a toyline created by Tomy in the mid-1980's. In the distant future the human race retreats into voluntary hibernation in order to weather a series of solar storms that threaten to ravage the surface of the Earth. Prior to entering stasis, Mankind constructs the Starriors: sentient robots designed to repair the Earth in preparation for Man's return. The two primary factions of Starriors were the militant Destructors, programmed to eliminate dangerous lifeforms expected to evolve in the wake of the solar flares, and the pacifistic Protectors who would actually do the work of rebuilding the world. A third class, the Guardians, would oversee the hibernating humans.
As time passed, the Destructors' leader, Slaughter Steelgrave, decides it would be better if Mankind did not return. To this end, he annihilates the Guardian class, enslaves the Protectors, and does his best to wipe out all records of Mankind's existence. Evidence of the Starrior's true creators eventually falls into Protector hands, however, and they flee into the wilderness in search of the hidden fortress where Mankind lies hidden, Slaughter Steelgrave and his forces in hot pursuit...
Although eventually released as an entirely separate line with its own original story, the Starriors figures were initially intended for the Zoids toyline and share numerous design elements with them. Despite having colorful, detailed toys and an engaging storyline told in part via a four-issue Marvel mini-series by Louise Simonson (wife of Walt), the line did not fare well and was cancelled not long after its inception.
---
Tropes:
---