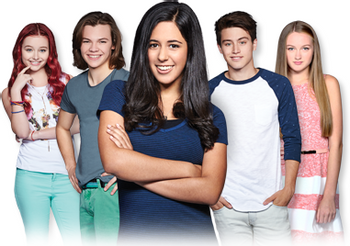 Talia in the Kitchen
is an American teen sitcom that premiered on
Nickelodeon
on July 6, 2015. Just like Nickelodeon's
Every Witch Way
(a remake of
Grachi
), it is the American
Foreign Remake
of the Nickelodeon Latin American teen drama
Toni, la Chef
and is produced by the same Miami studio and creative staff responsible for all three of those series. Unlike
Every Witch Way
, which premiered some time after the conclusion of
Grachi
,
Talia in the Kitchen
and
Toni, la Chef
run concurrent of each other - they both premiered their first seasons within a few months of each other.
The series opens with Talia and her sister Julia living with their aunt Tilly in Boston, but they soon travel to Miami where the sisters will spend a month with their abuela Dolores. While there, they discover that Dolores' restaurant, Lola's, has been closed due to a number of failed health inspections - and that these inspections were sabotaged by a rival restaurant across the street, Fuchinelli's, run by Federico "Frenchie" Fuchinelli and his cousin Debbie. Talia becomes determined to return Lola's to its former glory and show her aunt that she has what it takes to stay in Miami as the restaurant's new head chef. In addition to Julia and Dolores, she gets help along the way with new friends Rudy and Valerie, a young kid named Rocky who has a crush on Julia, and Debbie's brother Tyson who has the same for Talia herself. Also helping her are some old spices hidden behind a wall that have magical powers and can affect people in different ways depending on how they're combined. As it turns out, she's not the only one who knows of the spices or how they work - nor the only one who has a magical spice set.
The series concluded its daily first season run of 18 episodes on July 30, 2015 and began another 18 episode run on November 30th that year. It also shared two consecutive Crossover episodes with Every Witch Way in the first season (concurrent with Every Witch Way's last season). The second batch of episodes ended on December 23rd, 2015. On the week of January 11th, 2016, members of the cast confirmed on social media that Nickelodeon decided not to renew the show for another season, leaving the show on a cliffhanger.
---
Tropes seen in Talia in the Kitchen: