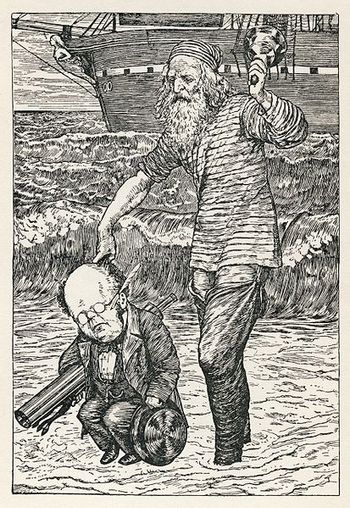 They sought it with thimbles, they sought it with care;
They pursued it with forks and hope;
They threatened its life with a railway-share;
They charmed it with smiles and soap.
"The Hunting of the Snark (An Agony in 8 Fits)" is a Narrative Poem by Lewis Carroll with illustrations by Henry Holiday, telling the story of a group of unnamed adventurers as they search for the elusive Snark, a vaguely-described creature which lives on a remote island.
The poem may be considered a Spiritual Successor to "Jabberwocky" from Through the Looking Glass, and contains several of the same creatures that are mentioned in "Jabberwocky".
Worth noting is how the poem was constructed - the last line was the first line that Carroll thought of. The rest of the poem was made to build up to it.
Douglas Adams gave a Shout-Out to the poem in the original radio version of The Hitchhiker's Guide to the Galaxy by titling the episodes "Fit the First" etc.
You can read it on Wikisource.
.
---
This poem provides examples of:
---
For the Snark was a Boojum, you see.