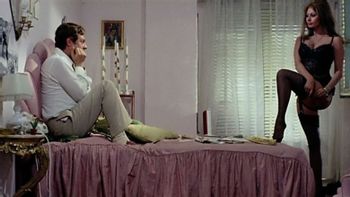 Yesterday, Today, and Tomorrow ("Ieri, oggi, domani") is a 1963 film directed by Vittorio De Sica, starring Sophia Loren and Marcello Mastroianni. It is a comedic Anthology Film consisting of three separate segments linked by nothing more than the presence of Loren and Mastroianni as stars. The three segments, all named after the character that Loren plays, are:
"Adelina": Adelina is the wife in a lower-class family in Naples. She is pinched for selling bootleg cigarettes, which is the only means of support for the family as her husband Carmine (Mastroianni) has been unemployed since being discharged from the army. The family can't pay the fine, and the cops come to arrest Adelina. However, due to a quirk in Italian law, she can't be arrested, because she's pregnant, and under the law she's immune from arrest for six months after the baby is born. This gives her an idea on how to stay out of jail.
"Anna": Anna is the rich wife of a super-rich industrialist. She takes her lover, Renzo (Mastroianni) for a drive, but their romantic countryside drive is spoiled when Renzo has an accident with the car.
"Mara": Mara is an upscale prostitute who entertains clients at her Rome apartment. One of her clients is Augusto (Mastroianni), the harried son of a wealthy businessman. A seminary student visiting his grandmother, who lives next door to Mara, is practically hypnotized by Mara's beauty. Eventually he decides to leave seminary to pursue her, and to join the French Foreign Legion if she rejects him. After the student's panicked grandmother begs Mara, Mara agrees to help steer the boy back to seminary. This keeps interrupting Augusto's sex with Mara.
Yesterday, Today, and Tomorrow was the third de Sica film to win the Academy Award for Best Foreign Language Film, after Shoeshine and The Bicycle Thief. Seven years later he won a fourth award for The Garden of the Finzi-Continis.
---
This work contains the following tropes: