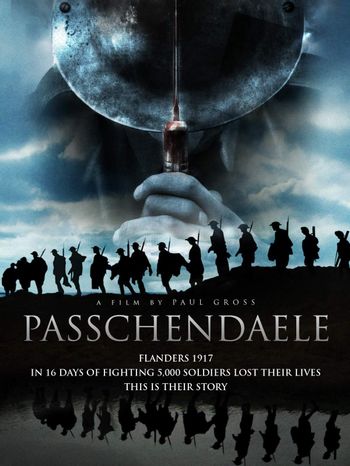 Passchendaele (2008)
is a
Canadian
film set during the events of the Battle of Passchendaele during
World War I
. Written, produced and directed by
Due South
actor
Paul Gross
(who also stars in the lead role), the film follows a war veteran who heads back into the war to protect a young boy from harm.
Set during the height of the war, the film tells the story of Sergeant Michael Dunne (Gross), a Canadian soldier who is wounded during the Battle of Vimy and is nursed back to health by a woman named Sarah. He is diagnosed as neurasthenic (what is now known as post-traumatic stress disorder) and returns to his hometown of Calgary, Alberta to work as a war recruiter. Sarah's asthmatic brother, David, enlists in the war effort and demands that he is recognized by the father of his girlfriend, Cassie. Sarah believes that Michael is responsible for David's enlistment, and blames him for getting her brother involved in the army. To save David's life, Michael re-enlists with him (using a cover name), and they are sent to the frontline during the Battle of Passchendaele - one of the bloodiest military battles in Canadian history.
At a budget of $20 million dollars (CAD), it is the most expensive film ever made in Canada to date. Passcheandaele was inspired by the experiences of Gross' grandfather, who fought in World War I. The film received mixed reviews when it premiered in Canada.
---
This film provides examples of:
---