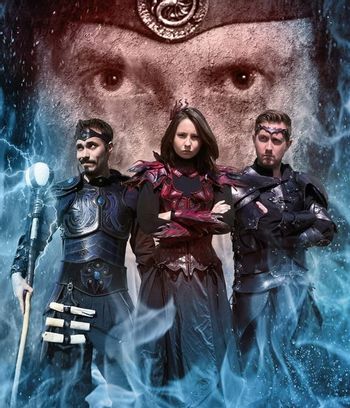 Noob: La quête légendaire (Noob: The Legendary Quest, 2015) is the sequel to Noob: Le Conseil des Trois Factions and the second entry in the Noob movie trilogy. To prevent a wait as long as the one between Season 5 of the Noob webseries and the first movie, the second one started being released in episodic form in September 2015, with the full movie to be available in March 2016. An unexpected surge of productivity in post-production made the film actually get finished and available to crowdfunding contributors just a few days before 2015 did the same, but the public release remained in Feburary 2016.
The story picks up two or three days after the end of the previous movie, that had Arthéon announce that Fictional Video Game world Olydri was going to be victim of a Colony Drop that would destroy it in ten days. One week before the disaster is to strike, Gaea realizes that she's one of the people who's supposed to do something about it as she is now head of the game's top guild, Roxxor. Unfortunately for her, that realization coincides with some of Roxxor's higher ups getting wind of her general dishonesty, and deciding they're better off with her in a cell and the guild's historic second in command taking over. A beacon of hope manifests as a couple of allies breaking her out. In addition, another acquaintance of hers is willing to give her the lead on the quest that will stop Arthéon if she succeeds, which in turn could have the side effect of earning her respect from the rest of the guild.
Meanwhile, Justice, Omega Zell's guild and Roxxor's rival, has yet to find any lead in stopping the meteor. Omega Zell himself is considered ready to start a Side Quest Side Story that will enable him to acquire a very powerful spell, but is also one of the hardest in the game. In the middle of all this, Ystos and Sparadrap's father makes his debut in the story, bringing a few reveals about their family along with him.
The full movie version can be viewed with subtitles here
(they have to activated). A bonus episode, which consists of the movie from Arthéon's perspective, was released in May 2016 and is treated as the fourteenth episode of the movie's "Season 7 of the webseries" cut.
---
The movie provides examples of: