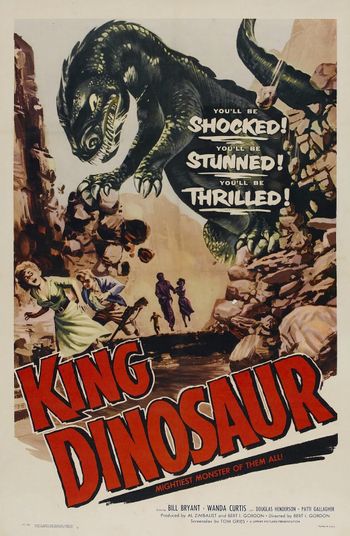 Ralph:
Well, we did it.
Richard:
Yeah, we did it... we brought
civilization
to Planet Nova.
King Dinosaur is a 1955 Science Fiction B-Movie produced and directed by quickie king Bert I. Gordon for Lippert Pictures (known for Rocketship X-M, Lost Continent and Jungle Goddess). The film was shot over seven days in Bronson Canyon, Griffith Park and the Benedict Canyon area. The story is predicated on the notion that a new solar system has set up shop "a half-year's rocket flight away" from our own. A group of intrepid scientists turned space travelers — zoogeographer Richard Gordon (Douglas Henderson), mineralogist Nora Pierce (Patti Gallagher), physician Ralph Martin (Bill Bryant) and chemist Patricia Bennett (Wanda Curtis) — blast off (via stock footage of Germany's V-2 rocket) to explore the earth's new neighbors.
Upon landing on one of the planets (actually the mountains surrounding Los Angeles) the scientists confront all manner of outsized reptiles (courtesy of clips from One Million B.C.). When the planet's "dinosaurs" threaten our heroes, the huge lizards are dissipated by an atomic-bomb blast (more library footage). Having made the planet safe for colonization (?), the space travelers return to Earth.
For the Mystery Science Theater 3000 episode see here.
King Troposaur:
---