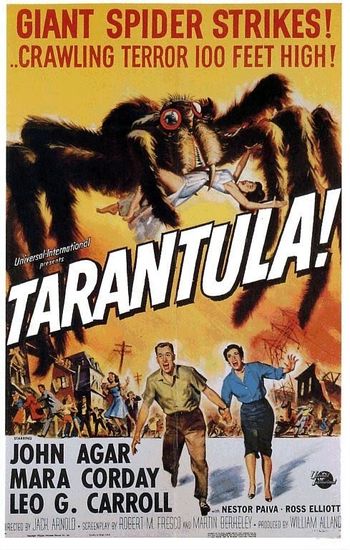 "Leo G. Carroll was over a barrel
When Tarantula took to the hills."
The quintessential Giant Spider movie and one of the better giant monster B-Movies from the 1950s.
Near a small Arizonan town, Professor Gerald Deemer (Leo G. Carroll), suspecting burgeoning global food shortage problems due to an increasing world population, has been attempting to develop a serum which people can feed off exclusively. Alas, when trying it on rats, rabbits and a tarantula, all it does is cause them to grow to enormous proportions, and when humans take it, it causes them to develop acromegaly, go mad, and die. Deemer's two lab assistants take the serum when he is gone one day, causing one to die, and the other to go mad and attack Deemer, injecting him with the serum himself. During their fight, the cage of the tarantula, which is already about the size of a large dog, is shattered, and it escapes into the desert. Shortly afterwards, local doctor Matt Hastings (John Agar) brings in Deemer's new assistant Stephanie "Steve" Clayton (B-Movie scream queen Mara Corday). As Deemer's condition deteriorates due to the serum, Hastings romances Clayton. But then the livestock of local farmers start turning up dead. The escaped tarantula, sure enough, has grown to even bigger proportions; now those of a large building. It is now up to Deemer, Hastings, Clayton and the local sheriff to stop it.
Among other things, the film is notable for the appearance of a 25-year-old Clint Eastwood in an uncredited role as a fighter pilot at the end of the film.
---
This film provides examples of:
---