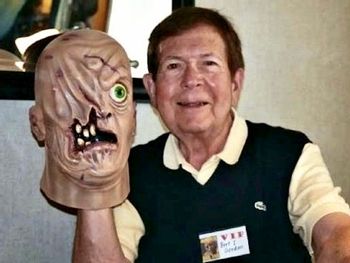 "From the time I was a very young kid I didn't want to do anything but make movies the rest of my life."
Bert Ira Gordon (September 24, 1922 – March 8, 2023) was an American B-Movie creator whose directorial career spanned from 1955 to 1990. Probably best known as "The King of the Giant Monster Movie", eight of his 21 films ended up being shown on Mystery Science Theater 3000; the most from any one director.
Gordon was married to Flora Lang, with whom he had three daughters, and Eva Marklstorfer, with whom he had a fourth daughter. He passed away at age 100, from complications caused by a fall in 2023.
---
Films with TV Tropes pages (those featured on MST3K are labeled):
<!—index—>
<!—/index—>
---
Gordon's films provide examples of:
---