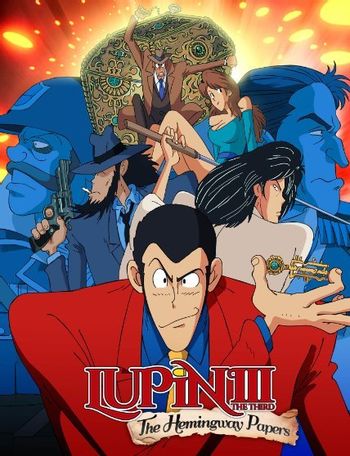 Lupin III: Mystery of the Hemingway Papersnote (Japanese title: ヘミングウェイペーパーの謎 – Heminguuei Pēpā no Nazo), or simply The Hemingway Papers, is the second of the Lupin III Yearly Specials, first aired on July 20, 1990. Like the previous special, it was directed by Osamu Dezaki. Discotek Media released it in the U.S. with English subtitles in 2014.
It's been some time since the Lupin Gang's last caper. Everyone has split up and are working on independent jobs. We open in the middle of a war zone where Jigen finds himself in a shootout with some random thugs – after thoroughly schooling their leader, he is hired to "track down" Crazy Mash, a Psycho for Hire known for his ruthlessness. Thousands of miles away, Goemon is in training when a local Buddhist monk informs him that something exists that even his trusty Zantetsuken cannot cut, which prompts him to seek out this uncuttable object. Meanwhile, Fujiko has landed in Geneva and gotten herself hired as the secretary to the obscenely wealthy (and obscenely sketchy) arms merchant Mr. Marces. Zenigata is also in Geneva, and follows Fujiko hoping to find Lupin.
Over in Barcelona, Lupin hears a rumour about a secret manuscript written by Ernest Hemingway that allegedly tells the location of a massive treasure – legend says Hemingway wrote it while living in Paris, and his suicide was actually a murder by someone who wanted the manuscript, which was stolen and locked in an impregnable box. The box is said to be on some island in the Mediterranean, but that doesn't matter since it requires a special key to open, which is in a German castle. Naturally, Lupin decides to steal the key, but a group of mercenaries gets there first and absconds with it.
Lupin tracks the box to the Mediterranean island of Colcaca, which is in the middle of a nasty civil war between the authoritarian forces of President Carlos, and rebels led by Consano. Consano has taken to hiring outside mercenaries (and Jigen) and turned to shady Swiss arms dealers for weapons. President Carlos, fearing Consano, has taken on Goemon as a bodyguard. Lupin tries (and fails) to bluff his way out of a tight spot when he's rescued by Maria, owner of the last working bar on the island. While scouting out the terrain, Lupin catches a glimpse of Jigen…
Thus begins the re-formation of the Lupin gang as the pieces of this puzzle slowly fall into place to unravel the mystery of Hemingway's lost manuscript.
Preceded by Lupin III: Bye-Bye Liberty Crisis! and followed by Lupin III: Steal Napoleon's Dictionary.
Complete Spoilers Below — Don't read any further if you don't want to know how this caper turns out!
---
This TV Movie provides examples of…
---