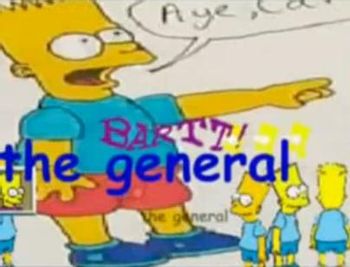 Bart the General is a series of animated short films made by the group known as "Famicon", and is based very, very loosely upon The Simpsons. It is also a complete and utter Mind Screw, the sort of stuff that would make David Lynch piss his pants. With an animation style that looks like it was drawn in Kid-Pix or MS Paint, partly because it basically was,as it was animated in Multimedia Fusion 2, and a narrative that cannot remain on one subject for any amount of time, the series is extremely surreal and frightening. The series comes in four parts with an apparent fifth, as the fourth ends with a TBC screen.
Although the series is extremely hard to follow, the plot can best be summed up as this: Homer/Omarn Simpson is living a peaceful life in the quiet suburb of Duckburg, when one day a usurper named Jarrod "Toadfish" Rebecchi, who wears an orange bowling shirt and speaks with a New Zealand accent, arrives and kicks Omarn out on the street, taking Marge as his bride. Omarn is inconsolable, and spends most of his time either drinking away his sadness or hiding out at a safehouse owned by Ned Flanders. Meanwhile, the everyday events of Duckburg go on, with hilarious hijinks going on all the while, like Bart/Burton deciding to buy a Formula One racer, or a spiky haired guy falling down a well and getting trapped there with House.
The narrative, at times, seems as though it is attempting to tell a straightforward story, but just when you think it's finally going to stick to one idea, some new strange event comes along and everyone's forgotten about the previous occurrences. Overall, the series is a strange one that definitely deserves a look.
If you want to risk killing some brain cells, the videos are available here, on Famicon member GHXYK2's old website: http://www.snakzstock.com/ghxyk2/archive.html
Some time in 2011, the "Famicon" group released another Simpsons-related cartoon that may or may not be in canon with this series, called "The Blue Family."
Not to be confused with The Simpsons season one episode of the same name.
---
This series provides examples of:
---