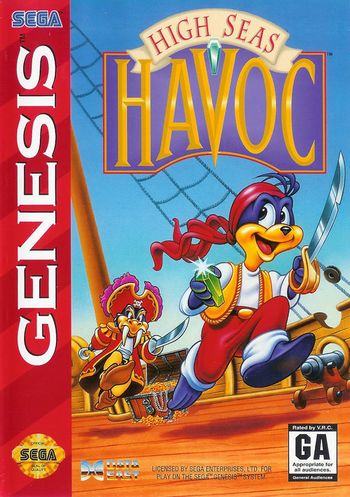 "Help Havoc outsmart boatloads of salty scoundrels and rescue his captured friends, held prisoner by Bernard."
— Page 3 of the USA Manual.
An adventure game by Data East that was released in 1994 for the Sega Genesis, this delightful platformer tells the story of a noble pirate seal named Captain Havoc who, together with his kid sidekick, Tide, sail the seven seas in search of adventure, fighting more villainous corsairs and generally living the good life.
One day, Havoc's life would be changed forever when he and Tide come across a young woman washed up on the shores of the beach. Taking her under their care, they nurse her back to health, whereupon she introduces herself as Bridget. Producing a map, she tells them of a legendary treasure known as the Emerelda — a magical jewel that, according to legend, has the power to lay waste to nations if it ever fell into the wrong hands. And unfortunately, just such an owner of "wrong hands," the dread pirate Bernardo, has learned of the Emerelda and is seeking it out at all costs. When Bernardo's forces abduct Bridget and Tide, Havoc sets out to rescue them, defeat the scoundrel, and seek out the Emerelda. All in a day's work for a pirate hero, right?
In many ways, the game takes its inspiration from Sonic the Hedgehog in the form of its art style, lush graphics, and general gameplay — navigating complex environments with a character who moves swiftly. However, High Seas Havoc also has its own unique charm, and is worth picking up if you happen to come across it. Just be prepared for a noteworthy challenge.
Havoc to the Rescue!:
---