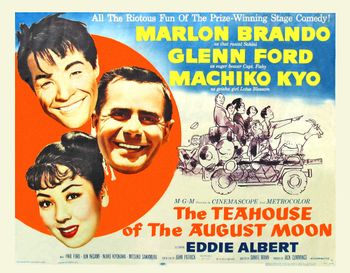 The Teahouse of the August Moon began life as a 1951 novel by Vern Schneider, which was adapted into a Pulitzer Prize-winning 1953 play, and then into a 1956 film directed by Daniel Mann and starring Marlon Brando, Glenn Ford, and Machiko Kyo.
The story, a comedy, is set in Okinawa in 1946, during the American occupation. Glenn Ford is Captain Fisby, a well-meaning but ineffectual officer sent by his commander, Col. Purdy, to Americanize the village of Tobiki. Sakini (Brando in Yellowface) is his interpreter, a wily local who manipulates Purdy and Fisby for the good of the village. Capt. Fisby arrives in Tobiki intending to execute the rather rigid American game plan for reconstruction — democracy unions, lectures on democratic government, a schoolhouse shaped like the Pentagon — but the locals win him over and convince him to build a teahouse and start a distillery. Capt. Fisby's willingness to accommodate the locals is increased when he is given (yes, given) a geisha named Lotus Blossom (Kyo) to look after his every need. Things are going swimmingly until a surprise visit from Col. Purdy (Paul Ford) threatens to ruin everything.
Something of a Playing Against Type role for Brando, who didn't do a lot of light comedies. Machiko Kyo's only English-language film.
---
The Tropehouse of the August Moon:
---