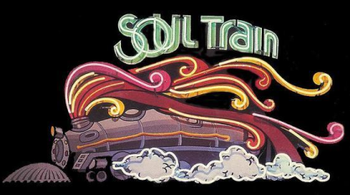 "The longest-running first-run nationally-syndicated program in television history, and the hippest trip in America."
Soul Train was a music program in the vein of American Bandstand that ran in First-Run Syndication from 1971-2006. It was recorded at the studios of KTTV channel 11 in Los Angeles, being one of a very small number of nationally-viewed entertainment programs originating from a local TV station rather than a TV network studio, a production company studio, or a motion picture studio.
Conceived and hosted by Chicago newscaster Don Cornelius, the 60-minute show was both a showcase and a trend setter for black music, fashion and dance for generations of black youth. As such, the show's main focus was on black artists; non-black performers did appear as early as 1972, many of whom (including David Bowie, Tom Tom Club, and a pre-breakthrough Robin Thicke, among others) were strongly influenced by and/or paid homage to black music, but these were comparatively rare. Along with this were its signature elements, the Soul Train Scrambleboard (where a man and woman had 60 seconds to arrange letters on a magnetic board to spell out the name of a current celebrity) and the Soul Train Line (where dancers show off their best moves while moving down two columns of fellow dancers), the show is a pop cultural icon to this day. Along the way, it spawned its own record label (Soul Train Recordsnote which was rebranded as Solar Records after only two years, when Cornelius dropped out to concentrate on the TV show, though the show and label remained closely tied) and its own awards show (which actually survives the show itself).
Don Cornelius hosted from the October 2, 1971 debut through the end of Season 22, on June 26, 1993, after which the show utilized a large variety of guest hosts for the next few years. Mystro Clark became the new permanent host at the beginning of Season 27 (1997-98), but only held the role briefly before Shemar Moore replaced him on the thirteenth show of Season 29 (1999-2000). Dorian Gregory was the final host, holding the reins for the show's last three years (2003-06).
The last first-run episode aired on March 25, 2006, with the broadcasts of December 9, 2006 to December 29, 2007 being repeats of episodes from 1973-88 titled The Best of Soul Train; some of these episodes were shown again starting the following week, with the very last broadcast (September 20, 2008) being the Donna Summer/Staple Singers show from December 15, 1984.
After the sale of Soul Train's rights from Don Cornelius Productions to MadVision Entertainment in early 2009, an official YouTube channel was established along with a planned series of DVD sets from Time-Life. In 2016, Viacom (Via BET) bought the franchise, which includes all trademarks, the tape library, the award show and the revival cruise series, The Soul Train Cruise
.
Wikipedia has a full list
of artists who appeared on the program over the course of its run.
Not to be confused with a train full of souls.
---
The show contains examples of:
---
"And as always, in parting, we wish you love... peace... and
SOOOOOOOUL!
"
---