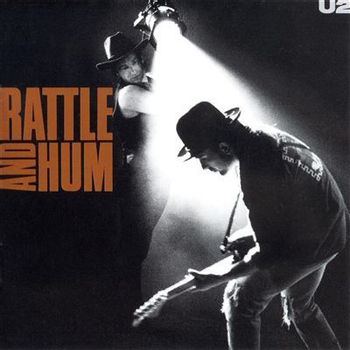 Rattle and Hum is the sixth studio album by Irish pop band U2. It was released through Island Records on 10 October 1988.
It acts as the soundtrack to the documentary film of the same name, which followed the band around is it toured America. A double album, Rattle and Hum is a mixture of live performances and newly recorded songs, continuing the blues and country sounds of The Joshua Tree. It's also U2's most fannish album, at least until Songs Of Innocence, as it includes tributes to and collaborations with such musical heroes as B.B. King, Bob Dylan, John Lennon, and Billie Holiday.
While the album was a commercial success, going quintuple-Platinum in the United States and quadruple-Platinum in the United Kingdom on worldwide sales of 14 million copies, critics and audiences alike responded to it with mockery. The consensus was that U2, by attempting to put out an album and documentary of this sort so early in their careers relative to the product's weight, were brashly attempting to put themselves among the ranks of the very legends they were paying tribute to; one Rolling Stone reviewer called Rattle and Hum "misguided and bombastic."
The poor reception of the album blindsided the band, who came to realize that they were starting to stagnate artistically, leading them to step away from their traditional sound in favor of hard-edged Alternative Dance starting with their next album. That said, this album would have a lasting effect on the band's reputation; even today, Rattle and Hum is considered proof of the band's image among non-fans as vapid and egotistical.
The album spawned four singles: "Desire," "Angel of Harlem," "When Love Comes to Town," and "All I Want Is You." While all four were Top 10 hits in the United Kingdom—with "Desire" being their first UK #1—only the first two were hits on the Billboard Hot 100, with "Desire" only peeking at #3 in the United States.
Track listing:
Helter Skelter (live from Denver)
Van Diemen's Land
Desire
Hawkmoon 269
All Along The Watchtower - (live from San Francisco)
I Still Haven't Found What I'm Looking For - (live from New York)
Freedom For My People
Silver And Gold - (live from Denver)
Pride (In The Name Of Love) - (live from Denver)
Angel of Harlem
Love Rescue Me
When Love Comes To Town
Heartland
God Part II
The Star-Spangled Banner
Bullet The Blue Sky - (live from Tempe)
All I Want Is You
When Tropes Come To Town: