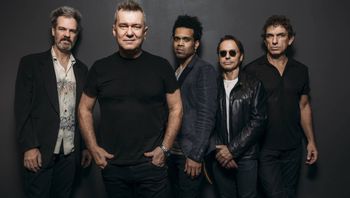 Ask someone from outside Australia to name an Australian rock band, and the most likely answer would be "AC/DC". However, within Australia, there is one band that is at least as revered as "Akka-Dakka". That band is Cold Chisel.
Cold Chisel were formed in the 70s, during Australia's pub rock boom, which also produced the aforementioned AC/DC, among others. They were fronted by a young man called Jimmy Barnes, with pianist Don Walker writing the bulk of their songs. Even without huge amounts of support from radio or TV in their early days, the band garnered a large following via the pub circuit. In fact, it would be fair to describe them as the definitive Aussie pub rock band. However, despite their popularity in Australia, international success eluded them.
Cold Chisel broke up in 1983, but frontman Jimmy Barnes went on to a solo career, becoming even bigger than he was as a member of Cold Chisel. The band regrouped in 1998 for the album The Last Wave of Summer and a national tour, and still occasionally comes together again.
Drummer and sometimes composer Steve Prestwich died of cancer in 2011, and was replaced by Charley Drayton who has worked with The Rolling Stones and the The B-52s.
Cold Chisel contains examples of the following tropes:
---