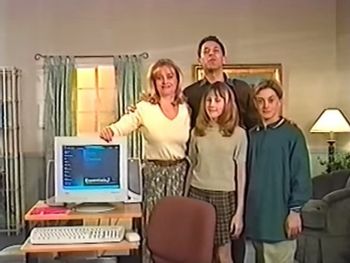 "On your mark, get set,
We're riding on the Internet..."
It's 1997. The Internet is exploding in popularity. How do we tell kids about it?
The Kids Guide to the Internet is a half-hour informational videotape produced by video company Diamond Entertainment Corporation. It was designed for kids to tell about how to use the Internet and the services available.
Available to watch on YouTube at this link
.
In June 2014, it was featured (in shorter clips) in a Teens React to 90's Internet. It was also pooped by cs188 as "IT'S ALL RIGHT AT YOUR FINGERTITS". The Jamison family also previously appeared in the 1996 videotape The Family Guide to Computers, also from Diamond; it can be viewed here
, courtesy of Oddity Archive.
---
Tropes in this video
---
"Take a spin, now you're in, with a technoset,
You're going surfing on the Internet..."