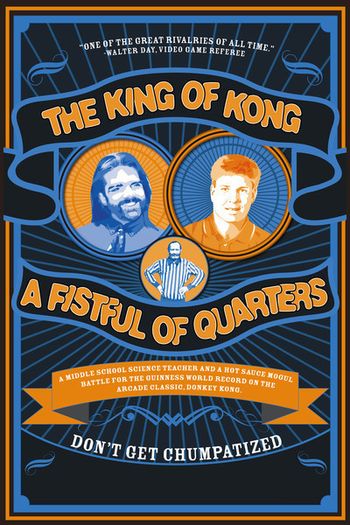 "World record headquarters, how may I help you?"
— Billy Mitchell, answering the phone.
The King of Kong is a 2007 documentary by Seth Gordon about the international top score of the classic arcade game Donkey Kong. The documentary follows Steve Wiebe in his attempt to overtake the top score set by Billy Mitchell in 1982. While following Steve's training regimen and attempts at a home arcade machine to beat the score, the film also goes into how classic arcade international top scores are collected and kept through an international agency known as Twin Galaxies.
---
This film provides examples of:
"If I have all this good fortune...if everything's rollin' my way...if all these balls have bounced in my favor...there's some poor bastard out there who's gettin' the screws put to 'im. [laughs]" —Billy Mitchell, just before Steve Wiebe's introduction
Casanova Wannabe: Roy Shildt attempted to build a career as a pick-up artist and selling his techniques to others. The film shows that he hasn't been particularly successful.
Cloud Cuckoolander: Walter Day comes across as being a bit spacey, enthusiastically talking about how ideas come to him like bolts of lightning and how he doesn't concern himself with day-to-day things because he's a big-picture guy. Plus, there's the fact that he wears a referee's shirt all the time because it's a key part of his public identity as the arbiter of high scores.
Cursed Item: Robert Mruczek remarks that the Donkey Kong machine at Funspot is particularly difficult and that some gamers, including Billy Mitchell, consider it to be cursednote .
---