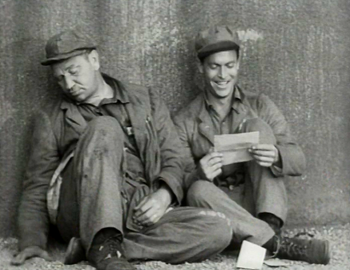 The Big House is a 1930 drama film directed by George W. Hill, starring Wallace Beery, Chester Morris, and Robert Montgomery.
Montgomery is Kent, a callow rich boy who is sent to prison on a ten-year manslaughter sentence after killing someone while driving drunk. His cellmates are Morgan (Morris), who is doing a stretch for robbery, and Butch (Beery), a jovial, avuncular fellow who happens to be a multiple murderer serving a life sentence. Morgan offers himself as sort of a mentor for young Kent in prison, but Kent rejects Morgan's help, eventually becoming a cowardly stool pigeon. Meanwhile Butch, who has nothing to lose, is plotting a jailbreak.
The Big House is the Ur-Example of that sub-genre of film known as "prison flicks". In fact, although prisons were used as settings at least as far back as the 19th century and works like The Count of Monte Cristo, this may be the Ur Example period for works set in prison that explore prison life. It was a Star-Making Role for both Beery and Montgomery. Beery had been unemployed when MGM hired him for this film, his contract with Paramount having expired.note The role had been intended for Lon Chaney before Chaney's untimely death from cancer earlier that year Beery got an Academy Award nomination for Best Actor and was a leading man for most of The '30s.
---
Tropes: