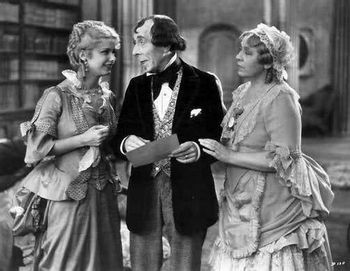 Disraeli is a 1929 film directed by Alfred E. Green, starring George Arliss, his wife Florence Arliss, Doris Lloyd, and a young, gorgeous Joan Bennett.
George Arliss plays Benjamin Disraeli, Prime Minister of the United Kingdom in 1868 and 1874-80. The film concentrates on Disraeli's efforts to purchase a controlling interest in the newly constructed Suez Canal in 1875. When Lord Probert, the director of the Bank of England, refuses to back the initiative—revealing a strong anti-Semitic dislike of Disraeli—the prime minister turns to a private banker for the funds. While outflanking Probert, Disraeli has to outwit two Russian spies: the treacherous Mrs. Travers (Lloyd) and Mr. Foljambe, who is working as Disraeli's secretary. And while doing all this, he finds the time to match up his assistant Lord Charles Deeford with the lovely Lady Clarissa Pevensey (Bennett).
Disraeli is typical of the stiff, dull, stagey films that constituted most early talkies. George Arliss won the Academy Award for Best Actor for alternating between dullness and Large Ham as Disraeli.
---
Tropes: