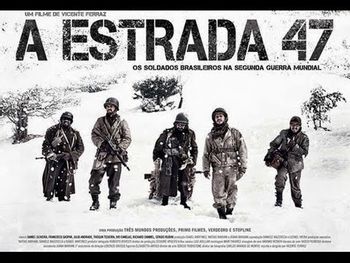 "One day, all of this will be forgotten."
— Guima
Road 47 (also known as The Mountain and The Lost Patrol) is a 2015 Brazilian WWII Drama, remarkable for being the first of its kind to tell the tale of Brazilian participation in WWII, a little-known affair.
The movie centers on a small Brazilian squadron that, during the Battle of Monte Castello
, ends up panicking and abandoning its post. After regrouping, the squadron realizes that if they come back, they will face trial for desertion and be expelled from the army or executed. Their salvation lies in the titular Road 47, a road crucial to Allied transport that is completely covered by mines. And thus, in an attempt to save themselves from a desertion charge, the group decides to undertake the Suicide Mission of going behind enemy lines in the unforgiving Italian winter to clear the road and allow the Allied forces clear passage. On the way, they meet an Italian deserter (portrayed by Sergio Rubini) and a German commander (portrayed by Richard Sammel).
The movie centers on character drama and exploration rather than action, and it's quite a downbeat war film about the cost of war, violence and the loss of lives.
---
Tropes: