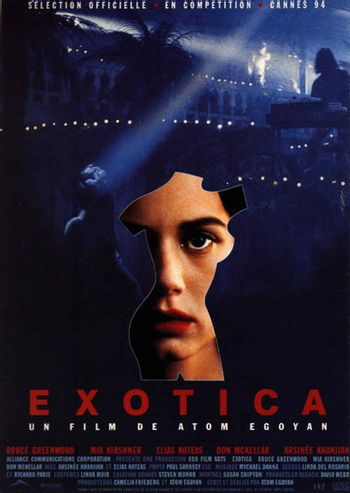 Exotica is a 1994 Canadian drama film directed by Atom Egoyan, with most of the action taking place in a fictional Toronto gentleman's club called Exotica. It stars Mia Kirshner, Bruce Greenwood, Elias Koteas, Don McKellar, Arsinée Khanjian, Sarah Polley, and Victor Garber.
The plot centers on the interconnected lives of Thomas Pinto (McKellar), an exotic bird smuggler; Francis Brown (Greenwood), a tax auditor with a troubled past; Zoe (Khanjian), the owner of the club; Eric (Koteas), the club's emcee; and Christina (Kirshner), one of its dancers. The film does not reveal how all of these characters are linked until the final scene.
The film was marketed as an erotic thriller on its release in Canada and the United States and became a major box office success for English Canadian cinema. It received critical acclaim, winning a critics' prize at the Cannes Film Festival and a nomination for Best Foreign Film at the Independent Spirit Awards.
---
Exotica contains examples of:
---