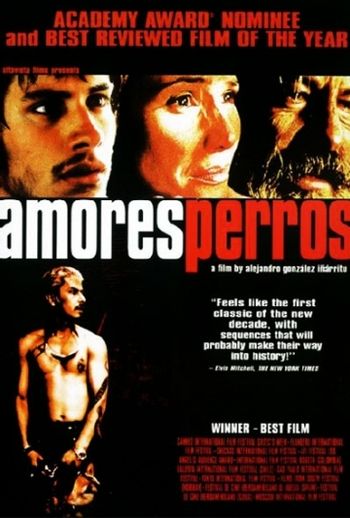 Amores Perros is a 2000 Mexican drama film directed by Alejandro González Iñárritu. It is both his directorial debut and the first in his "Trilogy of Death", followed by 21 Grams and Babel. The title translates roughly in English to "Love's a Bitch", though Word of God states that this is not what the title is supposed to mean. It is sometimes referred to as "the Mexican Pulp Fiction", although if you're expecting the film to be in any way similar to that film except in terms of structure, you're out of luck.
The film tells three stories each revolving around a different person or set of persons in Mexico City; interconnected via a common event consisting of a car crash. In the process, it shows how the lower, middle and upper classes in Mexico interact. Each of the stories also involves dogs in some way.
The first story, "Octavio y Susana", stars Gael García Bernal and Vanessa Bauche as the title characters. Susana is Octavio's sister in law, but Octavio is in love with her and resents the way her husband/his brother, Ramiro, treats her. Enticing her to flee with him to start a new life, Octavio enters his dog, Cofi, in the dog-fighting circuit where it quickly becomes a champion, scoring him big bucks with which to do it.
The second story, "Daniel y Valeria", stars Álvaro Guerrero and Goya Toledo. Daniel is a successful magazine publisher who leaves his family to live with supermodel Valeria. Valeria hurts her leg when Octavio's car collides with hers; confining her to a wheelchair for a few weeks. In Daniel and Valeria's new apartment, Valeria's dog Richie disappears down a hole in the floorboards. At night, they can hear it whimpering, and Valeria implores Daniel to try and rescue it. The two get into a fight, and Valeria resorts to trying to rescue the dog herself. Big mistake...
The third and final story, "El Chivo y Maru", stars Emilio Echevarría and Lourdes Echevarría. El Chivo (The Goat) appears on the surface to be a homeless man who cares for stray dogs. In reality, he is a hitman who got involved with a guerrilla movement and thus abandoned his daughter, Maru, many years ago. He and his wife agreed to tell their daughter that he was dead. El Chivo is hired by a man to kill his business partner, but as he is about to do it, he is interrupted by the car crash. He then learns that the target is the client's half-brother, and decides to throw a spanner into the gears...
It was nominated for the Academy Award for Best Foreign Language Film.
---
This film provides examples of:
---