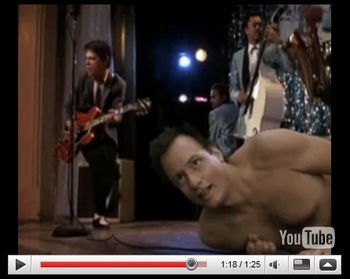 A series of YouTube videos by Jan Van Den Hemel and Andrew Hussie (creator of MS Paint Adventures), comprising spliced video and audio from various episodes of select popular TV shows and movies from the 1980s to early 1990s. Originally the site started by cutting around shots from episodes of Star Trek: The Next Generation, but over time it grew to include Back to the Future, The Fresh Prince of Bel-Air, and Knight Rider (along with Sesame Street and the 1995 film Jeffrey for reused footage gags with Patrick Stewart), sometimes going across works in increasing levels of editing complexity.
Though Hussie appears to have abandoned the project in recent years, Van Den Hemel still puts out a new video every once in a while.
The list/homepage has been taken down, but most of the videos can be found on Youtube here
and here
.
---
Tropes:
---