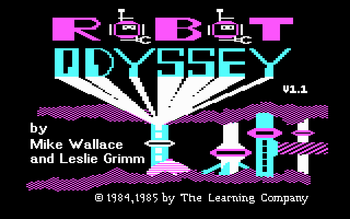 "Robot Odyssey is the hardest damn 'educational' game ever made."
—
David Auerbach
, in a
2014 review
Robot Odyssey is an adventure game published by The Learning Company in 1984. It was released for the Apple ][, Color Computer, and MS-DOS. It reused the engine from the well known Atari game Adventure and had an easier version named Rockys Boots intended for children.
The protagonist is a person who in a series of screens is shown to wake up from a dream and steps out of bed, inexplicably falling into Robotropolis, a city of robots. The person can escape only by programming robots to solve puzzles.
The game teaches basic concepts in electrical engineering; to solve the puzzles you must wire and rewire your robots. There is an extensive tutorial system to help you learn the concepts.
The game consists of five levels: The sewers, the subway, the city, the master computer center and the skyway.
You can watch the opening here
. It's very telling how hard this game is that nobody posted the ending until 12 September 2017.
---
Tropes appearing in this game:
---