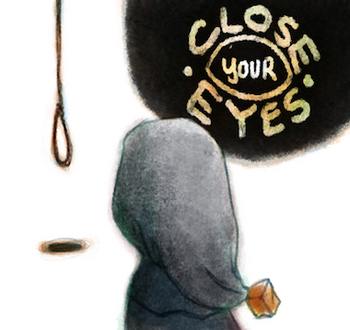 You're a murderer, we all know it. But do you think you are?
— The Host
Close Your Eyes: Redux is a freeware puzzle horror game created by Aesthetic Gamer
. Originally created as a shorter game simply titled as Close Your Eyes for Ludum Dare 29, the Redux edition added new content to the game. The game opens with a game show-esque host simply called The Host, who is introducing a "contestant" (the main character) who is about to be hanged. As the platform is released, the rope breaks and the main character, called Marshmallow Monk, flees from their execution into a surreal world. The game uses mostly symbolism and vague implications to hint at what is going on.
Close Your Eyes: Redux can be downloaded here
An even more improved edition of the game, titled Close Your Eyes: Redux Final Expansion was released on Steam
, Gamejolt
and RPGMaker.net
for free on August 31, 2015. It's stated to be over twice as long as the original game, with new locations, new scenes, new scares, and such.
---
open/close all folders
Close Your Eyes: Redux
---