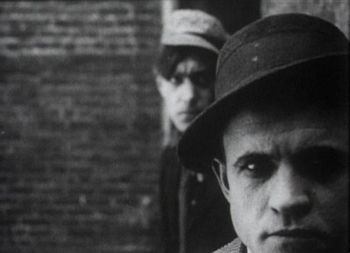 The Musketeers of Pig Alley is a 17-minute-long 1912 film directed by D. W. Griffith, starring 19-year-old Lillian Gish in one of the first films she ever had a role in.
Gish is "The Little Lady", who dwells with her musician husband and her frail mother in a shabby room in a dirty New York tenement. Her husband leaves town for a gig, leaving Gish vulnerable to the attentions of "Snapper Kid", leader of a gang of street thugs. She slaps him, which only seems to make Snapper Kid like her more. But a rival gangster also turns his eyes to the Little Lady, which leads to a confrontation with Snapper Kid.
The Musketeers of Pig Alley is one of the more well-remembered of the hundreds of short films Griffith directed early in his career. It is well known for an impressive shot in which the camera catches the Snapper Kid in the background coming around a corner, then remains focused on him as he creeps down the alleyway until his face looms huge in the camera. It has often been called the very first gangster movie, predating later works like The Public Enemy (1931) and Little Caesar by a generation. Martin Scorsese cited it as an influence on GoodFellas.
Lionel Barrymore has a small part as the musician's friend.
---
Tropes: