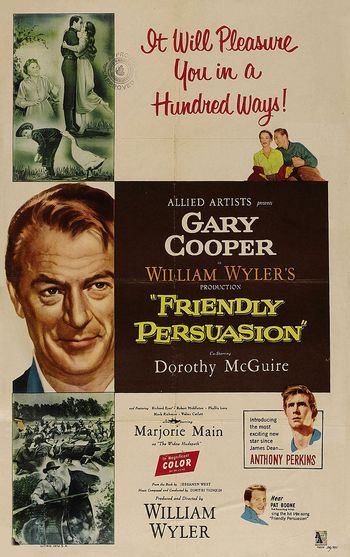 Friendly Persuasion is a 1956 film directed by William Wyler, starring Gary Cooper.
The Birdwells are a family of Quakers in southern Indiana during The American Civil War. Patriarch Jess (Cooper) and his wife Eliza (Dorothy McGuire) have a loving relationship that is occasionally interrupted by normal squabbles, like Jess's purchase of an organ, despite general Quaker disapproval of the playing of music. Youngest son "Little Jess" has an adversarial relationship with the family's pet goose and daughter Mattie is in love with Gard Jordan, a non-Quaker local boy who has joined the Union Army. But the main conflict is the war, and the hesitation of pacifistic Quakers about joining the war effort. Oldest son Josh (Anthony Perkins, four years before Psycho) is particularly torn about whether or not to join up and fight.
Said to be one of Ronald Reagan's favorite movies; the president gave a copy to Mikhail Gorbachev at a summit meeting.
---
Tropes: