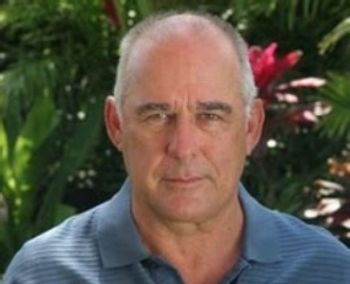 John Saul (born February 25, 1942) is an American author from California, specializing in suspense and horror novels akin to Dean Koontz and Stephen King.
A lot of Saul's books tend to be a little...repetitive, especially in his earlier works. Therefore many tropes apply to all his novels, frequently in the same context every time.
The man has an official website, which can be reached here
.
---
Bibliography:
Suffer the Children (1977)
Punish the Sinners (1978)
Cry for the Strangers (1979)
Comes the Blind Fury (1980)
When the Wind Blows (1981)
The God Project (1982)
Nathaniel (1984)
Brainchild (1985)
Hellfire (1986)
The Unwanted (1987)
The Unloved (1988)
Creature (1989)
Second Child (1990)
Sleepwalk (1991)
Darkness (1991)
Shadows (1992)
Guardian (1993)
The Homing (1994)
Black Lightning (1995)
The Blackstone Chronicles:

An Eye for an Eye: The Doll (1996)
Twist of Fate: The Locket (1997)
Ashes to Ashes: The Dragon's Flame (1997)
In the Shadow of Evil: The Handkerchief (1997)
Day of Reckoning: The Stereoscope (1997)
Asylum (1997)

The Presence (1998)
The Right Hand of Evil (1999)
Nightshade (2000)
The Manhattan Hunt Club (2001)
Midnight Voices (2002)
Black Creek Crossing (2003)
Perfect Nightmare (2005)
In the Dark of the Night (2006)
The Devil's Labyrinth (2007)
Faces of Fear (2008)
House of Reckoning (2009)
Tropes commonly found in his works:
---