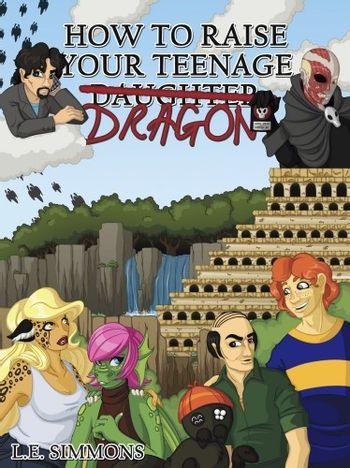 Zeke Fahrenheit is many things: confirmed bachelor (Mostly due to the fact he repulses every woman in a thirty mile radius with his lecherous ways) single dad (to a snarky teenage girl with a few extra arms and green scales), and film critic (perhaps the most evil profession in the universe). One thing he isn't, is lucky.
How to Raise Your Teenage Dragon is a genre-blending fantasy/comedy revolving around the sleazy and reviled Zeke, his adoptive teenage daughter Snapdragon Fahrenheit (who also happens to be a four-armed humanoid dragon) his lovably dense heterosexual life-partner Doofus, the lovely but temperamental catgirl princess Acinonyx, and a large cast of colorful characters as they wade through the murky trench that is life, while dealing with the occasional undead assassin and foul mouthed school administrator who happen to be Zeke's ex-girlfriend.
The webcomic updated on Tuesdays and Fridays and can be read here
but stopped being updated in June 2015 without explanation.
---
How To Raise Your Teenage Dragon provides examples of: