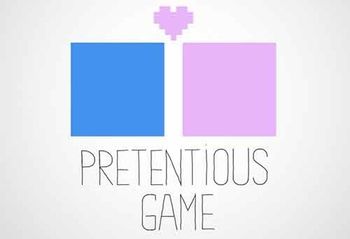 I will go wherever you are.
—The first line in the original Pretentious Game
Pretentious Game is a series of Adobe Flash games made by Keybol, with the first created in 2012. The gameplay is very simple: you use the arrow keys (and the mouse when required) to control different colored squares and solve various puzzles. With each puzzle, there is a sentence or two that gives a clue on how the puzzle is solved. Along with serving as hints, the sentences are used to tell a surprisingly emotional story about love and loss.
The first three games revolve around the relationship issues between the blue square, the bright pink square, the light pink square, and the gray square (for simplicity's sake, they will be called Blue, Magenta, Peach, and Gray respectively). Pretentious Game 1 and 2 focus on Blue as he pines for Magenta, who is oblivious to his feelings for her and ends up marrying Gray, and tries to move on by getting together with Peach. Pretentious Game 3 focuses on Peach's, Magenta's, and Gray's sides of the story. The fourth game in the series revolves around the familial relationship between Magenta's daughter and son. The fifth game focuses on Magenta's feelings toward Gray, both before and after the events of the previous games.
Each game in the Pretentious Game series can be played here
, here
, here
, here
, and here
. A five-in-one version was also published on Steam on May 20th, 2014.
The Pretentious Game series contains examples of:
---