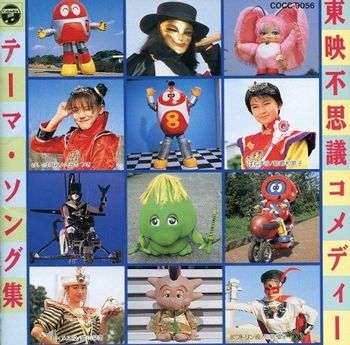 Besides Kamen Rider, Super Sentai, and Metal Heroes, Toei also had a fourth Toku Series Franchise called the Toei Fushigi Comedy Series (東映不思議コメディーシリーズ). It was a catch-all term for the various comedic and kid-oriented series that were shown on Fuji TV that were created by Shotaro Ishinomori. The characters were invariably adorable robots, cute creatures, kid detectives investigating crimes by masked thieves, and Magical Girls. The shows were broadcast from 1981 through 1993.
There are the following entries.
Robot 8-chan (1981 - 1982)
Batten Robomaru (1982 - 1983)
Pettonton (1983 - 1984)
Dokincho! Nemurin (1984 - 1985)
Katteni! Kamitaman (1985 - 1986)
Morimori Bokkun (1986)
Omoikkiri Tanteidan Hadogumi (1987)
Jaman Tanteidan Maringumi (1988 - 1989)
Mahou Shoujo Chukana Paipai (1989)
Mahou Shoujo Chukana Ipanema (1989)
Bishoujo Kamen Poitrine (1990)
Mysterious Girl Thutmose of the Nile (1991)
Utau! Dairyugujo (1992)
There was also a 13-episode series that parodied the franchise, but was not developed by the original production companies.
Bishōjo Celebrity Panchanne (2007)
---
Tropes: