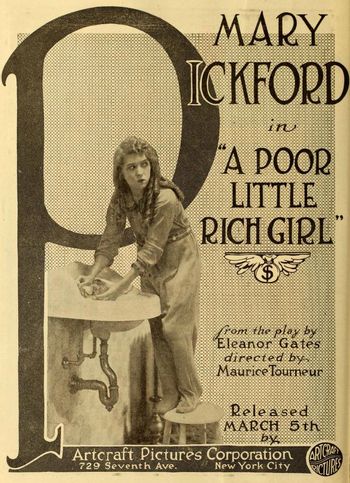 The Poor Little Rich Girl is a 1917 film directed by Maurice Tourneur and featuring one of the biggest movie stars of her day, "America's Sweetheart", Mary Pickford. Here Pickford plays Gwendolyn, the neglected 11-year-old daughter of a high-society couple. The father is too busy trading stocks and the mother is busy improving her social standing, and neither of them pay attention to their little girl. Gwen is left to the care of the servants, who are quite mean and seem to delight in tormenting her. In return she acts out, one time throwing her fancy dresses into the street and another time wrecking a bathroom sink. Nothing succeeds in getting her parents to spend some time with her—that is, not until an abusive maid gives Gwen an overdose of a sleeping drug.
The Poor Little Rich Girl was a smash hit and maintained Pickford's status as a huge movie star, probably the biggest of her day (her friend Charlie Chaplin was her only real competition). It was one of the first of the Dawson Casting roles that she would later become strongly associated with (Pickford was 24 when the film was released). It was selected to the National Film Registry as typical of Pickford's work.
It's also very, very Anvilicious—pay attention to your kids, people!
It was later remade with Shirley Temple as "Poor Little Rich Girl" (without the "The").
---
Tropes: